Introducing and New Book from Scott Walker
We are proud to announce a brand new offering from Scott of his own fiddle tunes!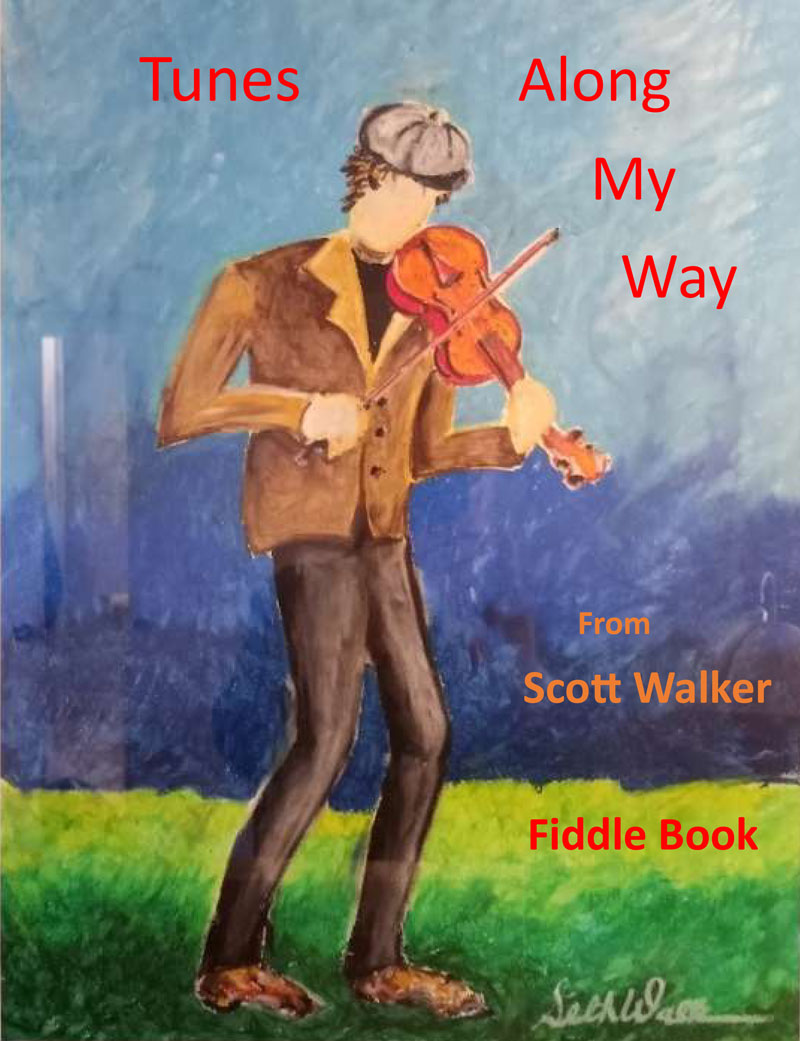 Tunes Along My Way for Fiddle & Cello
Scott says: "This is a collection of fiddle tunes that I have written at different points since I began playing Irish music over 3 decades ago. The collection includes typical types of tunes, including reels, jigs, hornpipes, waltzes. There are a few tunes that don't fall exactly into those categories, including an old time tune, a "quasi" cajun tune, a slow tune that is "quasi" Scottish, and one aire that was originally written for solo cello, and is more of a concert piece for cello and fiddle, in a folk style.
There are short descriptions of the tunes that tell a bit about my life, where I lived and traveled, and what I was doing. Most of the tunes were written at a specific place, some on trips, and some at home.
Memories of the places and the people there are woven into the sound. I sincerely hope you enjoy this music!"
String Orchestra Music from Scott Walker
I wrote these string pieces for the orchestras and ensembles that I have worked with over the years. I am publishing them here in the hope that string students and teachers will return to some form of normalcy in the very near future, and orchestras will be active again. The tunes range from beginning orchestra level to high school. I will be adding more tunes to this group, so please watch for my updates and visit here often!
As you search you will see a photo that represents the piece, a written description of the music, and samples of both the musical score and the audio.
These performances were made by myself and a very supportive group of string teachers/performers from here in Greensboro, N.C. Thanks goes to Karen Collins, Alex and Stephanie for their amazing playing! I have to admit that for now the audio for Dee Dup and Elemental Jam are produced by midi sounds from my computer.
The first four pieces are fun to play, and the melodies are easy to memorize! While VERY usable as string orchestra pieces, I have ALSO produced versions that include the main melody for a solo instrument, with a piano accompaniment. These tunes are intended to be used as supplemental material to the Suzuki Repertoire.
Thank you for considering purchasing! Ordering the PDF's will be quick and easy. You are free to make copies as you need them, but I ask that you please not share the music with others! Instead just share our website!
More on the orchestra pieces
I hope you and your students find these string orchestra pieces enjoyable. I would love to hear from you about your experiences with the music! With my private students and my orchestras, I have always tried to adhere to Dr. Suzuki's tenant that it is better to have students perform music one book below the level they are studying for a more satisfying performance. Then the students are not playing music that is new or too hard for them. They will feel their confidence grow as they prepare the piece, and you have a chance to work on the finer points of the music: tone, intonation, ensemble and interpretation!
As a Suzuki cello teacher, many times I taught multi-level groups when it became necessary to combine advanced players with less experienced ones. This is a constant challenge we have as teachers. Finding music that combines interesting challenges for everyone is the goal. When this happens successfully, it can be very satisfying. With my beginning tunes I hope to provide some music in this vein. The less experienced students benefit by hearing the more advanced ones, and the advanced ones are challenged to be leaders, to make the group sound better, and to be role models for the younger ones. This is a way to enhance the good of all!
Irish, American and Old Time Fiddle Tunes
compiled and arranged by Scott Walker
Here you will find my fiddle tune books that I have been used by many people for many years. The books for sale are arranged in the same key for Fiddlers and Cellists and come with a CD. Also for sale is Travlin' the Walker Family Band's only CD.
We Are Happy to Announce:
You may now purchase all the tunes from my books in both PDF and MP3 formats! That includes music from Book 1 and 2 of Irish Tunes for Young @ Heart Fiddlers, Violists and Cellists, as well the Ireland Tour 2007 Book for Fiddle, Viola and Cello.  (product says "downloadable").
Make it Your Own!
After purchasing and downloading the PDF's put them together in a 3 ring note book, or take them to the printer store and have them bind it up! This is much more economical.
Used Books:
I have gently used books. These books have been loaners over the years. They have all the tunes but are not brand new. I am offering these books, (all except viola) with a CD in the back of the book. Cost for the books is $10.00 and the CD is $5.00. Normal shipping charges will apply. 
Enjoy Shopping.
Scott Walker
More on the fiddle tunes
The fiddle music, appealing to students, is arranged with chord suggestions for accompanying instruments. I have included harmony parts that gives the music depth and variety. The tunes and the tune books have been used by many people in many different situations. They are perfect for those informal times that call for music that is uplifting and fun. I have used them in all kinds of teaching situations, private lessons, workshops and Institutes. "Irish Tunes for Young @ Heart Fiddlers" is comprised of very familiar Irish session tunes. The "Ireland Tour" book is basically the set list of music the group used on our trip to Ireland in 2007. The first half of the book is a group of well-known Irish tunes, and the second half has traditional American fiddle tunes and songs, the ones that were the most popular while we were there. The 'Travlin' CD was made by the Walker Family Band many years ago, and the tunes are well known classics at our camps and concerts! The tunes are written by members of the band, and the sounds run from American Old Time, to Irish style waltzes and to several unusual points in between. The music book for this book is no longer available. I find that teaching fiddle music improves student's abilities in many areas: in rhythm, in listening and ear training, in becoming more facile, and in confidence, yes and even in learning to be entertaining when you perform. These are the steps to becoming more like a professional! You must enjoy it first before you can really communicate the music to others! I have found that certain students who are maybe in a slump with their classical lessons that fiddle music re-energized them to their instruments! Also, one of my goals has been to help bring families and groups together through fiddle music! I developed these books for use with my local Greensboro group, "The Walker Street Fiddlers". With that group I enjoy tailoring how the group performs the tunes according to the strengths of the players. I like to feature soloists or small groups on the repeats. As I am leading, I sometimes make new arrangements up on the spot! Preparing the students to be flexible in this way teaches them that when you play 'informal' music, it is more exciting and authentic when creativity and spontaneity are at the forefront! I am looking forward to offering more String Orchestra music and Irish tunes soon! Please visit here often! Thank you Scott Walker