June 28 - July 4, 2020
The Walker Family Band 2020 Safe and Sound Summer Fiddle Camp
MAKE A DONATION
June 28 - July 4, 2020
The Walker Family Band 2020 Safe and Sound Summer Fiddle Camp
MAKE A DONATION
Thanks for a Great Safe and Sound 2020 Summer Fiddle Camp
THANKS TO EVERYONE who contributed to the success of our "Safe and Sound Camp!"
So many people were instrumental in making the 2020 camp a week we will not forget! We were so gratified by the wonderful group of intrepid people who decided to brave a pandemic and join us on campus. Flexible, cooperative, creative, talented would begin to describe the group that was on campus.
Many rounds of thanks go to Ted Wilson and the staff at the Blowing Rock Conference Center. The facility had been closed from March 10th until June 1st . Visitors were few until we arrived, and we immediately saw that LOTS of work had been done over those months. Ted and his staff were well prepared with a planned reopening that held the health and safety of staff and guests as a priority. We greatly appreciate their intentional implementation of safety measures while maintaining the relaxing atmosphere and exceptional guest and dining services that define BRCC as OUR mountain home!
The workshop we advertised in January was full of new plans, new personalities, new classes, and Teresja and I felt it was going to be a banner year! We could not have predicted finding ourselves forced to abandon our plan and restructure EVERYTHING! However, we were determined to carry on our tradition if we felt we could carry on safely. We feel we succeeded in hosting a safe and joyful summer camp where we could share our common love of music and friendships, both in person and through virtual gathering.
The planning for the "Safe and Sound" camp was carried out by many people who were not present in Blowing Rock for the week. We are indebted to the faculty and staff who discussed and planned for months, and then worked so hard behind the scene with such positive energy as we were forced to make difficult decisions in the face of constantly changing circumstances!
I have to say the sounds of the musicians playing together live for the first time in so long changed my body chemistry! We had great classes all week. With only Landon, Meghan, and Scott on campus as teachers, the students and parents took initiative and made things work! Once Ruth Pershing and Jared and Asher Fitzpatrick arrived later in the week, they had our performances taking shape SO FAST!!! After that it was non-stop for them as they began transforming the virtual aspects of the camp with our Live Streams. Thank you for being so Amazing, YOU THREE!
Our virtual presence was felt far and wide! Aisha Ivey, Christen Blanton, Linda Minke and Jennie Walker held zoom sessions all week, and many musicians join from various locations. Thanks to all of the off-site faculty for planning and teaching such enriching classes. Teaching online can be a real challenge, but all of you connected very personally with each participant on your classes by your energy and positivity! Thank you!!!
Likewise, we are honored to have received so many truly phenomenal videos from talented musicians across the country who contributed recordings for the Unity Program and other live streamed concerts. Thanks to all of you! Your hearts are so big to share your rich talent in support of our camp, students, and families. We feel the love coming at us from all of you and I hope you could feel the love and appreciation coming back to you!
Teresja and I feel DEEP APPRECIATION AND SINCERE GRATITUDE to everyone who made contributions to make this year's camp possible! Your generosity and support are overwhelming, and we feel so honored to share our lives and our camp with each of you!
If you were not with us this summer, we missed you! Here's hoping for more normal times to return, and we will look to see all of you next year!
In the spirit of Peace, Joy, and Music
…and with Love to all,
Scott and Teresja
an introduction
The Walker Family Band Summer Fiddle Camp
June 28 – July 4, 2020

Blowing Rock Conference Center, Blowing Rock, NC + Virtual Events

Please enjoy our Live Stream Performances below!
These are a combination of pre-recorded music and live performances that were presented in Upper Shuford Hall at the Blowing Rock Conference Center. I sent requests to former faculty members and students, asking for a YouTube videos of themselves. The response was wonderful, and the combination of those videos and the offerings of live music at the concert made an unintentional documentary of the "goings on" at our camp over the years. I was gratified to be able to MC and talk about the performers and their music. Below each video you will find programs notes with the performance start times indicated.
Scott Walker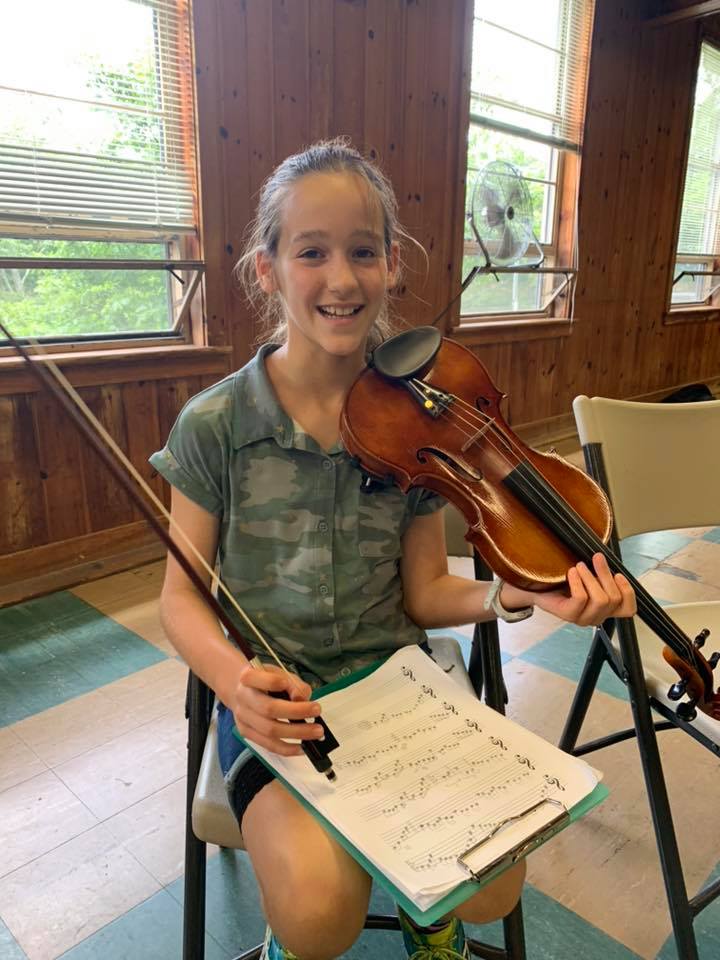 Live streams direct from Upper Shuford
Gala Festival Concert
3:00 P.M. July 2nd, 2020
AFTERNOON PROGRAM
Program
Recorded
"Tomorrow" from Annie – The Q T Pies, with Jenna Claire Martin and Molly Faust (at minute 1:20)
"Russian Tune" – Bennie Netzer and Bennie Netzer (3:48)
"Streak o' Lean Streak o' Fat" – Abigail and Andre Gruber (9:48)
"Johnny Henry's Reel Medley" – Cormac Begley, Jessica Ziegler, Fiachna Ó Mongáin, Tim McHugh & John Hoban, from Ireland | Slínam Beaglaoich  (14.38)
Quarter Chicken Dark – ala Goat Rodeo – Victor Huls, cello, and Friends; David West, Brad Kuykendal, Brad Livesay (19:58)
"Pig Ankle Rag" – Sabrina Patel (28.45)
"Maggie Mead" – Aisha Ivey' trio, the "Terra Trio" Aisha Ivey, Steve Hodges and Alex Shore (32:08)
Live
"Red Wing" – The Bens, with Ben Wooster, Ben Haile, Ben Granger (37:50)
"Knights' Vow" – The String Beans, with Nathan Jordan, Duncan Ritchie, Ryenne Ritchie (original) (43:39)
"Sean Ryan's" – Don't Share Your Metal Straws, with Joshua Gibbs, Savannah Gibbs, Ben Granger, Keiran Brehany-Wellman (48.30)
"Johnny Don't get Drunk" / "Needlecase" / "Nancy Don't get Drunk" / "Dillon's High D" – The Walker Brothers, Scott & Landon Old-time tunes (57:42)
"The Spotted Pony", "Angeline the Baker", "Over the Waterfall", "Liberty", "The Ashokan Farewell" – The Safe and Sound Fiddlers (1:39:21)
Gala Festival Concert
7:00 P.M. July 2nd, 2020
EVENING PROGRAM
Program
Recorded
"Somewhere Over the Rainbow" by Harold Arlen & Yip Harburg – Alexx Bass (0:55)
"Dancing Bear" – The Q T Pies, with Jenna Claire Martin, Molly Faust, and Betsy Potter (7:28)
"Wind on the Water," as performed by Nancy Curtin – Jennie Brunner and Scott Walker (10:23)
"One Rose" by Julee Glaub – Ruth Pershing, Jared & Asher KIrkpatrick (15:18)
"Fire on the Mountain" – Matt Brown (19:57)
"David Parry Jig / Laughin' in Baffin Reel" – The Friends of Fiddler's Green, with Laurence Stevenson (26:15)
"The Missing Piece"as performed by Cherish the Ladies – Meghan Parrish and Scott Walker (32:01)
"Golden Slippers" / "Salut d'amorel by Edward Elgar" / "By the Waters of the James" – Jesse Wells and Cory Wells (38.35)
"Full of Little Bites" / "Lad o' Byrnne's Hornpipe" / "Si Beag Si Mor" – Andrew Finn Magill (50:00)
"The Teasing Song" by Bela Bartok – Linda Minke and Victor Huls (1:01:10)
"Andante" and "Searching for Lambs" – Linda Minke, harp (Only upside down during the introduction) (1:04:57)
"The Lover's Waltz" by Jay Ungar – Anna Bernston and Victor Huls (1:08:55)
Live
"Devil's Dream" – Mario and Enzo Iraheta (1:37:00)
"Concerto for two Violins in D minor, 2nd Movement Largo" by J.S. Bach – Joshua Gibbs, 1st violin, Savannah Gibbs, 2nd violin, Scott Walker, cello (1:40:20)
"Concerto for two Violins in D minor, 1st Movement Vivace" by J.S. Bach – Safe and Sound Campers (1:31:31)
Unity Program & Jam
7:30 P.M. July 3rd, 2020
FINAL CONCERT
Program
This concert is dedicated to the people in this country who are oppressed or suffer from cruelty from others for no reason, and to the heroes on the front lines fighting the coronavirus for the well being of us all.
Peace, Joy, and Music!
Recorded
A special version of "The Longest Time" by Billy Joel, with new lyrics for our time by The Phoenix Chamber Choir of Vancouver BC – The Walker Fiddle Camp Moms (Min. Sec. 3:40)
"Got You on My Mind" an old Louisiana tune – Seth Walker & Dylis Croman (8:50)
"King of the Fairies" / "Joshua Fit the Battle of Jericho" – Bill Kronenberg, fiddle, Chris Becknell, Guitar, Jesse McQuarters, Bass, Renata Bratt, cello, and our very own Scott Walker, fiddle (15.31)
"Sunny Side of the Street" – Robbie Wells, vocals & fiddle (23:40)
"Empty Nest" from the Walker Family Band camp concert, 2010 (29.40)
Live
"Tom Kruskal's" by Emily Troll – Jared and Asher Kirkpatrick, piano and bass (36:40)
"Hula Halo" / "Hunter's House" and "The Pilfered Fig" / "The Gooseberry Bush" – The Walker Brothers, Scott & Landon (42:38)
Social dist-dancing! A called contra dance duet (for you to dance with someone in your "pod" or by yourself!) and a taste of some flatfooting – Ruth Pershing with demo by Jared & Asher Kirkpatrick, music by Scott & Landon (55:30)
Teresja Poole's Thank You (1:03:22)
A tune jam for all! (1:04:55)
Peace must come first. Peace means safe, warm, loved, then
Joy will be the natural and loving reaction, and not long after that,
Music will follow!